What is the Value of PR in Social Media?
Posted on July 1, 2019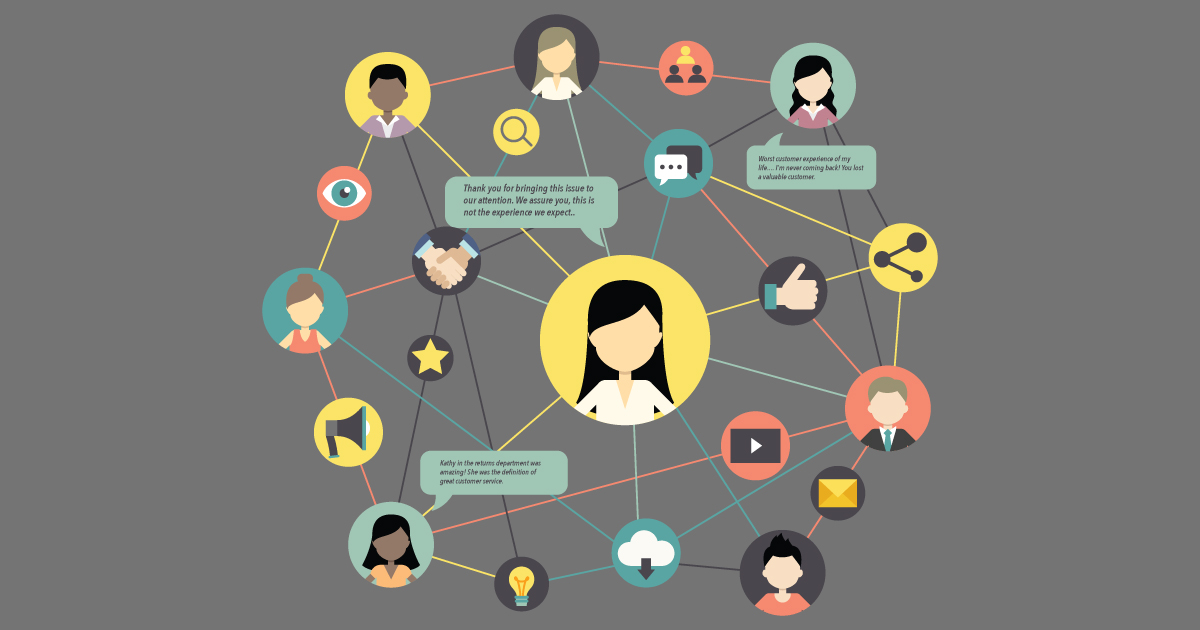 Customer service has always been top priority when it comes to retail. Your customers are what brings in revenue and allows you to keep your doors open, so ensuring they are happy should be a daily goal.
In the early days of advertising, a Brand would talk to the customer and tell them why they should buy from them, and the relationship stopped there. Brands and their customer service seemed unattainable.
Now, thanks to the development of social media, chatbots, and the increased expectation for instant gratification—the customer experience is a cycle. The Brand talks to the customer, the customer talks back, the Brand responds, then the customer reacts accordingly.
Because of this constant flow of communication, the customer feels a connection on a personal level to the Brand. Social media is all about creating a positive relationship with your customer. This constant flow of communication can be handled throughout multiple channels, including social media, email, and Google reviews. It is incredibly important to monitor these channels constantly and jump at any opportunity to turn a bad experience with your brand into a positive one.

71% of users who have a good social media service experience are likely to recommend the brand to others. 70% of consumers EXPECT brands to have a social media presence. [According to: https://www.bluecorona.com/pay-per-click/social-media-ads]
Topping the list for customer service requests is social media, at 34.5% (with Live Website Chat and email coming in close second). Monitoring digital communication channels is tremendously important; it's an opportunity in a public arena to change the narrative on a negative experience OR elevate an excellent one. If a customer publishes a bad experience, and your brand responds to rectify the situation, the customer sees that the brand cares about its customers.
It doesn't end with the original customer, either. Virtually anyone who is viewing your public pages is likely evaluating you with the potential to purchase something from your business. Use this as an opportunity to show everyone how much you care about your customers. Bonus points if you can go the extra mile and offer an incentive in order to keep this customer as a loyal patron of your business.
Publicly demonstrating your excellent customer service using your brand voice to convey that a negative situation isn't "the norm" can transform the view the customer previously had. Whenever possible, make certain that they are sharing their 5-Star customer service story with potential customers, instead of sharing the experience that had left a poor taste in their mouth.
Takeaway Tips
When responding to a bad review or comment, respond using these steps.
*Make sure to write unique responses as needed to create a more personalized experience.
Personalize, Apologize and Sympathize
"Hi X, we are so sorry to hear that you had this experience."
"Hi X, thank you for bringing this issue to our attention."
Throw in Marketing & Spin to Show that This Experience Isn't Typical
"We work tirelessly to ensure that our customer's expectations are met..."
"Customer Service is our top priority, so we are sorry to see that this was not the case during your visit."
Provide Customer with Somewhere OFFLINE to Handle Further
"We would love to discuss your experience further and work to make it right. Please email us at customerservice@X and we will work to resolve this issue together. Hope to hear from you soon!"
Note: Do not mention the business name in BAD reviews. Mentioning the business name can bring the bad review up in google searches.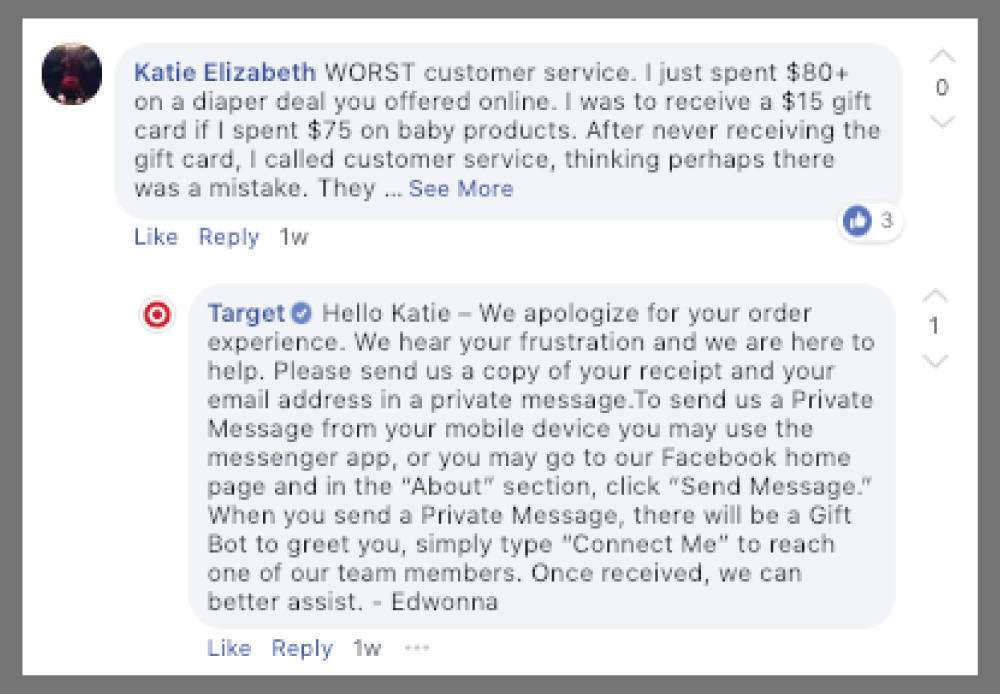 When responding to a good review or comment, respond using these steps.
*Make sure to write unique responses as needed to create a more personalized experience.
Thank the Customer for Using their Time to Provide Valuable Feedback
"Thank you so much for taking time to let us know how we're doing, X!"
Throw in Positive Marketing
"At [Business Name], we prioritize providing only the best products at the best prices for our loyal customers."
Invite the Customer to do Something
"We are so happy you have enjoyed your experiences with us, please come visit again soon!"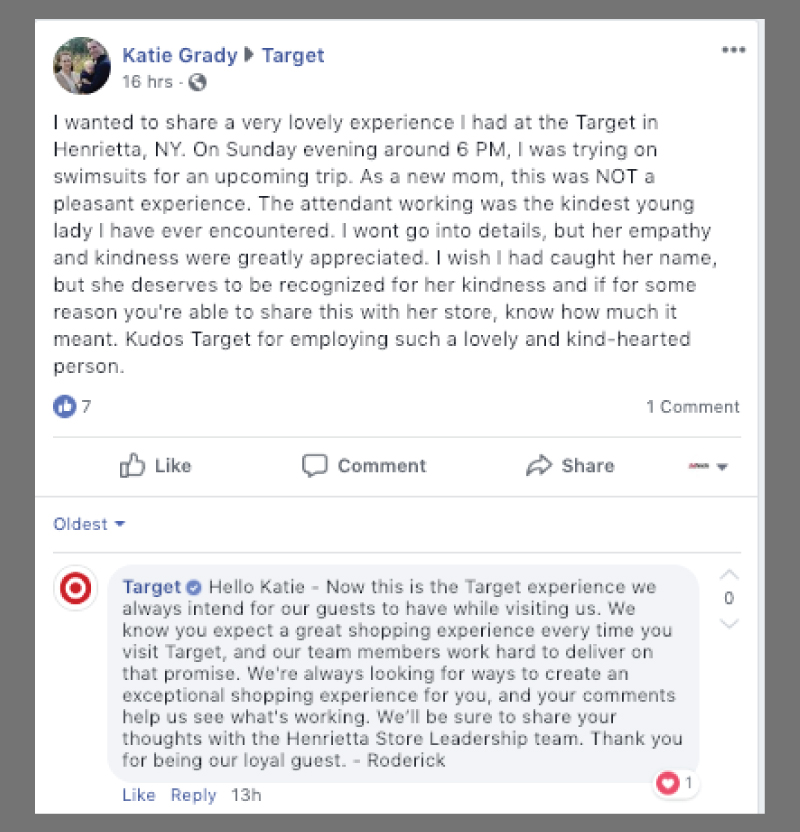 Responding to comments on your posts have more than one benefit. Dedicating your time to respond to these comments not only shows you care about your customers and what they have to say, but also counts as "meaningful engagement" to increase your post's organic reach. It is a simple and effective way to hack Facebook's algorithm.

Using social media as a customer service avenue is not only important, it is necessary. Become everyone's favorite brand by actively listening and seeking feedback to show you care about your customers.
---
Sources:
https://sproutsocial.com/insights/facebook-stats-for-marketers/#adstats
https://www.bluecorona.com/pay-per-click/social-media-ads
https://sproutsocial.com/insights/social-media-for-retail/
https://www.smartinsights.com/social-media-marketing/social-media-strategy/new-global-social-media-research/
https://www.spredfast.com/social-media-tips/social-media-demographics-current
https://www.socialmediatoday.com/news/the-advertisers-guide-to-social-media-demographics/507630/


Choose Another Article